News
Notices
DET is happy to announce that the Best Student Paper Award was granted to the PhD candidate Felipe Treviso at the 25th IEEE Workshop on Signal and Power Integrity (online, May 12, 2021)
Notices
DET is pleased to announce that prof. Gianluca Setti has been appointed as the Editor-in-Chief of the Proceedings of the IEEE (http://proceedingsoftheieee.ieee.org/) for a second term (2022-2024).
Seminars and Conferences
Chalcogenides form a vast material class with a wide range of applications, such as data storage, energy conversion, spintronics. This seminar will engage with the very diverse chemical and physical properties of chalcogenides and their correlation.
https://zoom.us/j/92178195339?pwd=UkF3NTEzY1JteURoNTQ5VU1EamNRdz09 - Wednesday, June 16th 2021, 15:00
Other Events
Here's the 4th IEEE 'PitchD – the PhD's pitch'. Our PhD IEEE Student Members explain to students, colleagues and professors their research.
YouTube - 28th April 2021 - 18.00
Notices
DET is proud to announce that Prof. Eros Pasero has been selected as IEEE I&M Society Distinguished Lecturer. Only 3 lecturers have been selected for 2021-2024 and Prof. Pasero is the only Italian expert for telemedicine and Artificial Intelligence.
Notices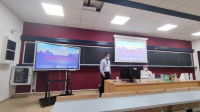 Ph.D. Student David Rodriguez received the second prize in the Student Paper competition of the URSI (International Union of Radio Science) General Assembly and Scientific Symposium 2021, held in Rome from 28.August to 4. September.