The Department of ELECTRONICS AND TELECOMMUNICATIONS (DET) is the point of reference in Politecnico di Torino for the following areas in the field of Information and Communication Technologies (ICT): telecommunications, electronic devices, circuits, technologies and systems, electronic measurement and characterization techniques, as well as electronic bioengineering.
The Department promotes, coordinates and manages basic and applied research, training, technology transfer and services to the local community in the areas of electronics, electromagnetic fields, telecommunications, electronic bioengineering, electrical and electronic measurement, and circuit theory.
Department News
DET is proud to announce that prof. Filippo Molinari has been renewed the appointment as Editor-in-Chief of the journal "Computer Methods and Programs in Biomedicine" by Elsevier for the term 1/1/2022-31/12/2024.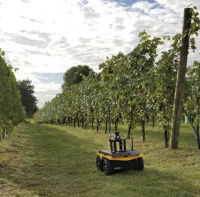 Researchers Diego Aghi, Simone Cerrato, Vittorio Mazzia, and Marcello Chiaberge received the best paper award on Agri-Robotics at the 2021 IEEE/RSJ International Conference on Intelligent Robots and Systems.