ALBERTO TIBALDI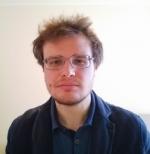 Assistant Professor with time contract

+39 0110904082 / 4082 (DET)
Alberto Tibaldi è nato a Casale Monferrato, Italia, nel 1987. Ha conseguito la Laurea e Laurea Specialistica in Ingegneria Elettronica rispettivamente nel 2009 e 2011. Nel 2013 è stato uno studente in visita presso il Terahertz Sensing Group della Technische Universiteit Delft, Delft, Paesi Bassi. Nel 2015 ha completato il Dottorato di Ricerca in Ingegneria Elettronica e delle Comunicazioni presso il Politecnico di Torino. Dal 2015 al 2019 ha svolto attività di ricerca presso l'Istituto di Elettronica e di Ingegneria dell'Informazione e delle Telecomunicazioni (IEIIT) del Consiglio Nazionale delle Ricerche (CNR) nell'ambito di un assegno di ricerca post-dottorale. Dal 2019 si è unito al Dipartimento di Elettronica e Telecomunicazioni del Politecnico di Torino in qualità di Ricercatore. I suoi interessi scientifici riguardano la modellazione multiscala e multifisica di dispositivi optoelettronici tra cui vertical-cavity surface-emitting lasers (VCSELs), celle solari, LED e fotorivelatori. E` autore o coautore di oltre 20 articoli su riviste internazionali, di 4 capitoli di libri e di oltre 30 contributi su atti di congresso.
Scientific branch
ING-INF/01 - ELETTRONICA
(Area 0009 - Ingegneria industriale e dell'informazione)
Skills and keywords

ERC sectors

PE7_5 - (Micro and nano) electronic, optoelectronic and photonic components

PE3_4 - Electronic properties of materials, surfaces, interfaces, nanostructures, etc.

PE7_3 - Simulation engineering and modelling

SDG

Goal 7: Affordable and clean energy

Goal 6: Clean water and sanitation

Goal 4: Quality education

Keywords

Analytical modeling

Light emitting diodes

Optoelectronics

Solar cells

Vertical-cavity surface-emitting laser (vcsel)
Scientific responsibilities and other assignments

Awards and Honors

Premio "Optime" Unione Industriale di Torino conferred by Unione Industriale di Torino, Italy (2012)
NEMO2014 Student Paper Competition Honorable Mention conferred by Technical Program e Conference General Chair della conferenza IEEE-MTT NEMO 2014 (2014)

Research networks

Consiglio Nazionale delle Ricerche - Istituto di Elettronica e di Ingegneria dell'Informazione e delle Telecomunicazioni (CNR-IEIIT). Partecipazione (formalizzato).
Collaborative Research Alliance (CRA) for MultiScale multidisciplinary Modeling of Electronic materials (MSME). Partecipazione (formalizzato).
Consorzio progetto EU MIRACLE - Photonic Metaconcrete with Infrared RAdiative Cooling capacity for Large Energy savings. Partecipazione (formalizzato).