CAPANINA - Communications from Aerial Platform Networks delivering Broadband Communications for All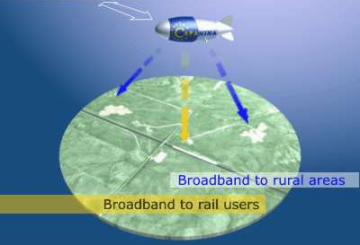 The FP6 CAPANINA project focused on developing wireless and optical broadband technologies for use on High Altitude Platforms (HAPs). Typically a HAP is an airship that floats at an altitude of around 20km, well above any normal aircraft but being in the stratosphere, substantially below orbiting satellites.
CAPANINA had the goal of delivering low cost broadband communications services to small office and home users at data rates up to 120Mbit/s - a staggering 2000 faster than today's dial-up modems and more than 200 times faster than a typical "wired" broadband facility. Users in rural and other 'hard to reach' areas could benefit thanks to the unique wide-area, high-capacity wireless coverage provided by HAPs.
Additionally, the idea of using "smart" roof-top antennas on trains in order to provide the moving user with high speed internet connectivity was developed. The CAPANINA project involved 13 international partners.
Class
International project
Status
Completed (28/02/2007)
Type
European Research Projects
FP6-IST
Lenght
39 months
Management

University of York (UK)

Partners

University of York (UK)
Deutsches Zentrum Fuer Luft- Und Raumfahrt E.V. (Germany)
Contraves Space AG (Suisse)
Carlo Gavazzi Space SPA (Italy)
Csem Centre Suisse d'electronique et de Microtechnique SA - Recherche et Developpement (Suisse)
British Telecommunications PLC (UK)
Budapest University of Technology and Economics (Hungary)
Universitat Politecnica de Catalunya (Spain)
Jozef Stefan Institute (Slovenia)
Euroconcepts S.R.L. (Italy)
Skylinc Limited (UK)

Budget
5.65 million euros
Participants
Web site
Project site