ROBERTO GAUDINO
Full Professor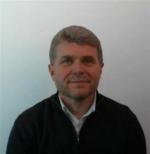 Roles
Responsabile Centro Interdipartimentale (Photonext)
Vice Coordinatore di Collegio (Collegio di Ingegneria Elettronica, delle Telecomunicazioni e Fisica (ETF))

Scientific branch
ING-INF/03 - TELECOMUNICAZIONI
(Area 0009 - Ingegneria industriale e dell'informazione)
Publications
PORTO@IRIS - Publications Open Repository TOrino
Curriculum
Expand text

Roberto Gaudino is currently an associate professor in the Optical Communication Group at Politecnico di Torino, where he is working on several research topics related to optical communications.

He received the Laurea in Ingegneria Elettronica (summa cum laude) from Politecnico di Torino, Turin, Italy, in 1993, and the Ph.D. degree in electrical engineering (optical communications) in 1998.

Dr. Gaudino spent the year of 1997 at the Georgia Institute of Technology, Atlanta, as a visiting researcher in the OCPN group, where he worked in the realization of the MOSAIC optical network testbed.

From 1998 to 2000, he was with the team that coordinated the development of the commercial optical system simulation software OptSim. He has consulted for several companies and he is author or co-author of more than 90 papers in the field of Optical Fiber Transmission and Optical Networks. He is co-founder of ATS Srl., a consulting firm in the field of optical communications. He is active in professional lecturing, for two different continuing education companies.

His main research interests started in the long haul DWDM systems, fiber non-linearity, modeling of optical communication systems and on the experimental implementation of optical networks. Currently his research activities are focused on packet switched metro optical networks, and on low cost optical access systems based on Plastic Optical Fiber (POF).

From 2006 to 2008 he was the coordinator of the POF-ALL STREP project in FP6, fully focused on POF systems. This is a large project on short reach optical links, global budget 2.7 MEuro. From 2008 to 2011, he is coordinator of the "POF-PLUS" project in FP7, a prosecution of the previous project on similar, but more advanced, topics.

He has acted as a reviewer for several IEEE publications on optical transmission and networks. He was the General Chairman for the 2007 edition of the International Plastic Optical Fiber Conference, held in Turin, Italy in September 2007.